It's that time of year again!
My blood boils.
My heart rate picks up a bit.
My entire wardrobe becomes overrun with red and black ensembles.
When Monday morning conversations around the water cooler start with, "Wow! Did you see that play?"
It's the return of college football, y'all! And if you are anything like me, you have had a countdown going for the last 30 days or so.
Oh, who am I kidding? I started the countdown February 1st.
So, in celebration of this time honored tradition, I am spilling all my favorite tailgating recipes in this Tailgating Recipe Round-up to get you ready for gameday! Because we all know that a great game day starts with a great spread…
a great tailgating spread that is.
These are recipes that are tried and true, delicious at room temperature, transport well, and feed the hungry fans!
I love this stuff! I eat it before football season, during football season, long after football season has ended… I eat it year-round!
It is so fresh, so easy to make, and even easier to gobble up. Pack a few extra bags of chips… you are gonna need 'em!
And because one dip isn't ever enough…
For someone who used to not like the icky green stuff, I have become quite the guac connoisseur! This recipe from What's Gaby Cooking is perfectly simple with just a few simple ingredients. Mix it up the night before the big game, store it in the fridge, and let the flavors blend.
Gameday perfection!
An addictive munchy, crunchy, salty & tangy snack that I just can't seem to get enough of!
Great for road-trip games!
Apple Dip(s) 
One of my tailgates would simply not be complete without a sweet apple dip. It's a family tradition for about 8 seasons now.
I have two dips that I love- a Caramel toffee dip & the new-comer, an Apple Pie Spice dip. Both have similar ingredients and both will keep you coming back for more!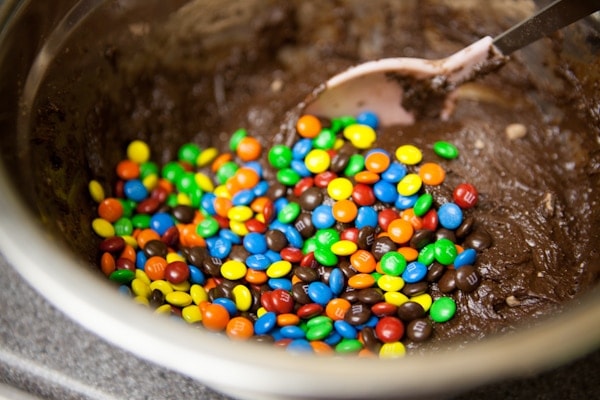 Because every tailgate needs a little sweet treat…
Who doesn't love cookies and who doesn't love M&Ms?
You could even customize your cookie bars with M&Ms in your team colors. Can't you just see little pops of red & white ribboning through that luscious chocolate cookie batter?
A pinwheel is a great make-ahead, handheld game day snack and these bacon cheddar ranch ones are so, so good!
They make me want to do the touchdown dance.
So, do you have any fan favorite game day recipes? Share them with me! I am always looking for new ideas and recipes.
So, have a great opening week end and….
Georgia, Hail to Thee!
GOOOOO DAWGS! Sic 'em….
xoxo