Y'all.
I can feel it.
It's in my bones. It's officially the dawn of winter here in the Deep South, and all I can say is that it's about time!
This time of year I always crave one thing- soup.
Soups. Chilis. Stews. I love them all. But, I do play a few favorites and there are a few that I return to time and time again for a classic winter warming.
So, make a big, big batch in your dutch oven or crock pot and then freeze your leftovers for another night when you are running low on time and still want all the comfort and flavor slow-simmered soups have to offer.
Here are a few I return to over and over… and I think you will too!
This is a shortcut miracle soup that begins with Hambeen's 15 Bean Soup from your grocer's shelves and ends with a totally amazing supper! If you aren't crazy about ham, I have also had great success with ground Italian sausage or even slices of smoked kielbasa as well. It's all perfectly delicious and so, so satisfying.
I first fell in love with this soup as a young girl at the local Olive Garden, and the truth is, I still love it as an adult, but I love my version of this recipe even more than the kind that comes with unlimited salad and breadsticks.
This recipe has been adapted for your crockpot and it's full of hearty Italian flavors, lots of veggies, beans, pasta, and herbs.
You will love it!
Zesty Chicken & Rice with Lime and Cilantro 
Is there anything in this world more comforting than chicken and rice?
Not for me at least!
And this recipe is a zesty, Tex-mex version of the classic with big, bold flavors of both lime and cilantro. And, it's absolutely delicious!
Serve with some tortilla chips and sliced avocados for a great meal, anytime!
And, pro tip, when you are shorter on time, opt for pulled chicken off a rotisserie chicken from your favorite retailer.
Blissful Butternut Squash Soup 
For a great Vegan soup that eats in a very non-Vegan way, try this Butternut Squash Soup from SkinnyTaste. It's super simple, only 5-6 ingredients, and is both Gluten-free and Paleo!
I am very partial to Butternut Squash soups this time of year. Love the color and love the flavor!
With a big piece of crusty bread for dipping and maybe a simply-dressed tossed salad on the side, I don't know anyone who would turn this down!
And speaking of another 5 ingredient soup…
Another tremendous recipe that is both easy to make with just a handful of ingredients, but is also incredibly economical as well.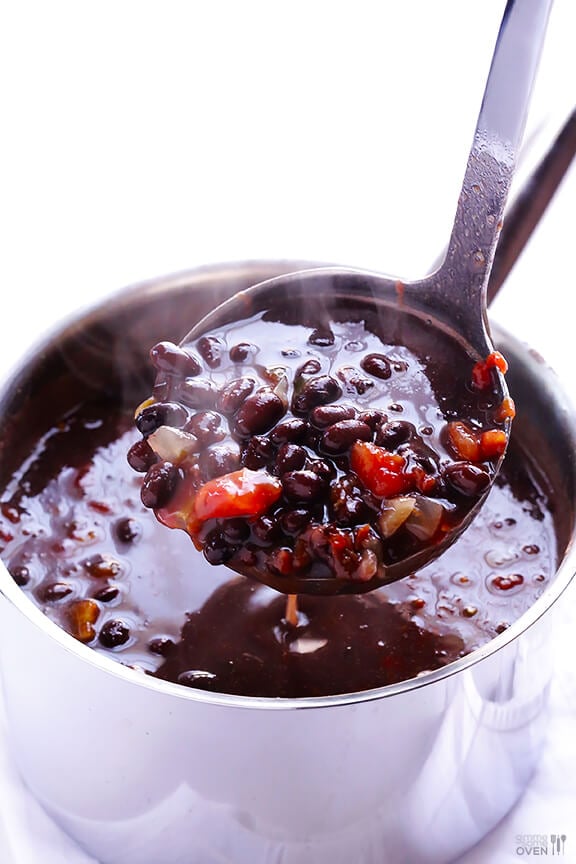 I love a big ladle of black bean soup served over some hot, brown or white rice for soaking up all that rich bean broth. So comforting!
And a tip for this recipe? If you prefer a smoother finish, like I do, just simply pulse your salsa in a food processor before adding to the soup and it will become a part of the broth and not be quite as chunky as pictured above, but still, every bit as delicious!
Crockpot Magic White Chicken Chili 
"Magic" because you dump all the ingredients in a crockpot, walk away, and come back to something totally amazing, comforting, and delicious!
I'd choose a white chicken chili over red beef chili any day of the week.
Hoping these soups give you some ideas and some inspiration to pull out the crock pot, Dutch oven, or Instapot and get cooking!
Enjoy!
xoxo….