I love a good Breakfast Tart, Quiche, or Baked Omelette. And, they are so special for a holiday brunch buffet or an intimate family breakfast after Santa's latest visit.
And this tart is full of so many delicious Italian flavors and textures, and even has red, white, and green right in the ingredients!
The nuttiness of the Gruyere pairs perfectly with the sharpness of the green onion, and the gentle smoky flavor of the cured Pancetta rounds the dish out! You are going to love this one.
Gruyere Cheese & Pancetta Breakfast Tart Recipe 
Ingredients:
1 frozen deep-dish pie crust (I really like the quality of Pillsbury pie crusts, already in the tin ready to bake!)
1 tblsp vegetable oil, or other flavorless oil
4 oz of Pancetta, cut into small 1/4-1/2 inch diced cubes
5 extra large eggs, at room temperature
1/2 cup mascarpone cheese, at room temperature
2 cups grated Gruyere cheese
3 scallions, both the white and light green parts thinly sliced
1/2 tsp salt
1/4 tsp pepper
Directions:
With the tines of a fork, prick the bottom of the pastry. This will prevent the crust from rising too much in the oven when baking and will keep the tart nice and flat when finished baking.
Meanwhile, in a medium skillet, heat the oil over medium-high heat. Add the pancetta and cook, stirring frequently, for 6 to 8 minutes, until browned and crispy. Drain on a paper towel-lined plate.
In a medium bowl, lightly beat the room-temperature eggs. Whisk in the mascarpone, Gruyere, scallions, salt, pepper and the slightly-cooled pancetta.
Pour the mixture into the cooled crust and bake for about 18 minutes, until the mixture has set and the top is golden.
Cool the tart for 10 to 15 minutes and then remove from the pan. Cut the tart into wedges and serve warm or at room temperature.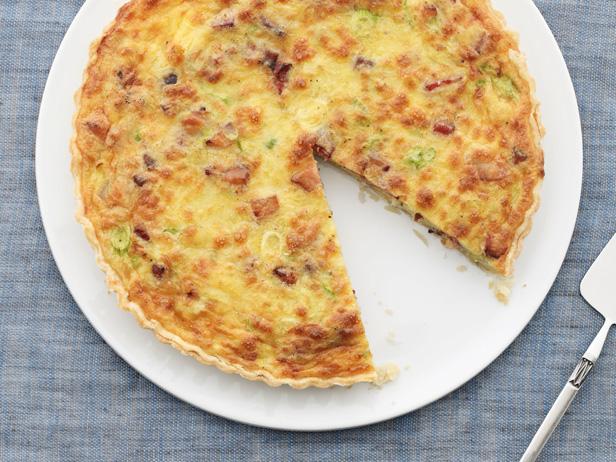 Absolutely perfect with some fruit salad and grits for breakfast or brunch, or even served with a nice tossed green salad dressed in a simple vinaigrette for a French bistro inspired lunch or dinner.
I don't know anyone who would turn this one down and Mom and I have been making it during the Christmas season for several years now! It truly has become a classic we readily share with our friends & family!
Hoping your Christmas is delicious, merry, and bright!
xoxo…