It's officially summertime!
The kids are out of school (and so I am enjoying lighter commute times in the mornings), Memorial Day weekend is behind us, and the temperatures are soaring into the 90's every afternoon.
I love summer- those endless sunny days and then nights that dance with the appearance of lightning bugs, but I have to be honest with you, summer is a lot of effort and it's incredibly hot here in Georgia, so I try to stay out of the hot kitchen as much as possible and keep my meal prep to a minimum. Times like these when I love my slow cooker, my indoor grill, and a sheet pan for those quick season-toss-and-roast, 1 pan dinners. I also stock up on fresh veggies, fruits, and prepared salad options as well for no fuss dinners as well as easy entertaining items.
So, I wanted to share a few of my favorites with you. From my simple, Southern, summertime table, to yours.
Summertime means grilling time.
It's just in me, since childhood. Dad would break out that Weber Charcoal grill about this time every year and we ate out of that little circular dome until about mid September. Without fail.
Well, I don't have a Weber grill or even a gas grill outdoors, but I love my indoor All Clad Electric Indoor Grill with Auto-sense technology. It grills the perfect chicken, shrimp, pork chops, burgers, and steaks each and every time… even directly from frozen. You know, for those days you forgot to set something out to defrost and you really, really want a hot, grilled meal now. NO problem!
And, when I have really planned ahead, I love a good marinated steak. I can grill 2-3 steaks and eat off them all week long as my main course, sliced on tacos, or a salad. And this, is the absolute best steak marinade from sparklestosprinkles.com.
Savory, tangy, and slight sweet. And if you try to be gluten and soy free like I do, just omit the soy sauce and opt for Coconut Aminos or even Tamari and you will still get the same flavor profile.
And Tequila Citrus Chicken from the Barefoot Contessa herself, Ina Garten, is sure to be a back yard classic as well!
Bold, citrussy, a little smoky, and remains really succulent and juicy.
And don't just stop at meat & poultry hot-off-the-grill, but throw on some skewers of your favorite veggies- Brussel Sprouts, Baby red potatoes, thick slices of sweet potatoes aka sweet potato "steaks", fresh & sweet summertime corn on the cob (one of my absolute favorite items for the grill), or even mushroom caps.
Along with those delicious hot & grilled proteins, side items abound! Nothing beats cool and perfect salads.
My favorite salad will forever and always be a Greek Salad. I love mixed greens, crumbly feta cheese, loads of olives, sliced salami, and sweet n spicy peppers- but hold the tomatoes! And I enjoy this quick and easy entree salad or side dish all year long, but it's flavors are great, fresh, and fragrant in the summertime.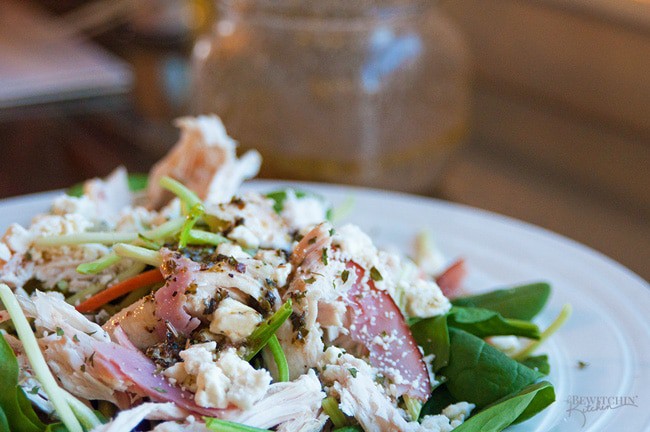 This is a recipe for a great classic Greek Vinaigrette that you can make a big batch of and store in your fridge in a Mason jar for quick Greek salads anytime you like.
Pasta Salads are a fan favorite, and a wonderful dish to prepare and take for a summer BBQ, picnic, or potluck event. They are also great to have on hand and dish-up alongside a salad, sandwich, or grilled meat throughout the week. They are usually super simple to make and last a long time in the fridge.
Best of both worlds!
Here are some of my favorite Pasta Salads, perfect for sharing:
I also love super fast dinners that only need to be in the oven short periods of time, like 10-20 minutes, so the oven doesn't heat up your entire kitchen and house. Seafood is the perfect answer!
Roasted Shrimp is such a quick and easy appetizer or entree that you will be making it over & over!
8-10 minutes in a very hot oven until they are pink and firm, and serve alongside rice, orzo, roasted veggies, or a tossed salad for a complete (and super fast) weeknight meal. Or, roast some up and serve them with your favorite store-bought spicy cocktail sauce for a quick and easy shrimp cocktail appetizer. Always a tremendous hit!
Panko-Crusted Salmon Fillets are as delicious as they are elegant. Impressive enough for even middle-of-the-week company! Or to enjoy all by yourself.
Stunning!
I guess I can say Salmon is stunning?!? Right?
And, we cannot neglect love for that slow cooker. Producing the perfect 1 pot meal without a single oven or eye turned on. It really is such a miraculous thing, and I love mine year round!
Slow Cooker Lemon & Garlic Chicken is a recipe I have posted here before, but I think it's worth posting about twice. So incredibly simple, flavorful, healthful, and you can eat off of it for a few meals alongside your favorite sides, on a salad, in a soup, or sliced on a sandwich.
Plus, this method linked above by No. 2 Pencil is Gluten-free & Paleo! Sometimes… oftentimes, the very simplest of things are the best.
And, who can forget desserts- even of the no-bake variety. Just pop it in the fridge or freezer, let it set up, and let it hang out until ready to serve.
No-Bake Lemon IceBox Pie from Lauren's Latest is the perfect mix of sweet, tart, cool, and refreshing.
Sign me up for a big square of that, please!
Or maybe Chocolate Lava Cake is more your thing? Slow cookers aren't just for main courses, but can be an efficient baking tool as well.
No link for this Chocolate Lava cake pictured above because the recipe is in the picture! So simple. Just look at how luscious that is! Delish!
I love a vibrant and fresh berry cobbler in the summertime & this Slow Cooker Berry Cobbler from Chef in Training is tremendous!
Blueberry and Raspberry are my favorites, but you could certainly substitute for your favorite berry- or mix it up and put 2 or 3 different varieties in there. So gorgeous! I love the colors.
Or, serve a delicious make-it-yourself dessert by setting out a sheet tray or serving platter of store-bought chocolate chip cookies (Tate's Bake Shop are my favorite variety) and a few pints of assorted ice cream. And some toppings too if you feel motivated to roll your cookies in chocolate chips, chopped nuts, or sprinkles.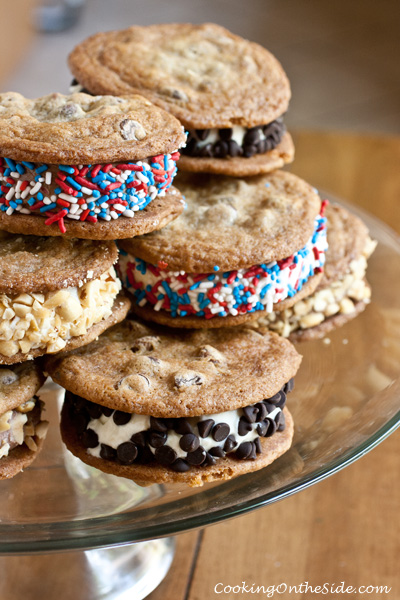 Maybe vanilla or chocolate for the originals, some mint chocolate chip for those a bit more daring, and a deep, rich raspberry sorbet for those who enjoy fruit and chocolate combination. Like me!
Everyone makes their own, and it's super fun! No matter how old you are, you never outgrow a love for ice cream sandwiches.
Ever. 
May this be the best (and most delicious) summer yet!
xoxo….