Why did someone not think of this ingenious idea even sooner?
I grew up on casseroles and one-pot meals, but a dinner all on 1 sheet pan… it's the updated version of the 1 pan meal.
Easy to make. Easy to clean. And very easy to enjoy with the ones you love.
Or just for you!
That's the beauty of the sheet pan. You can pile as much or as little as needed, throw in the oven to roast away, and the Voila! Dinner is served.
Here are a few of my favorites…
A Sheet Pan full of a few of my favorite things: crispy, tender chicken, green beans, and sweet potatoes. This Sheet Pan Chicken with Green Beans and Roasted Sweet Potatoes is sure to become a fast favorite.
Delicious, and one I have made more than just a few times. And, I have made substitutions and it turned out just as delicious- swapping a whole bird for chicken breasts with bone removed and skin still on, and small red potatoes in place of the sweet potatoes. Just cut the small reds in half and throw on the sheet tray!
I love her use of Italian seasoning and fresh lemon juice. Such a simple and delicious combination and under-used, in my opinion.
Work this one into your weekly rotation. You'll thank me later.
Sheet Pan Spicy Sausage with Potatoes & Veggies is sure to please the men in your life!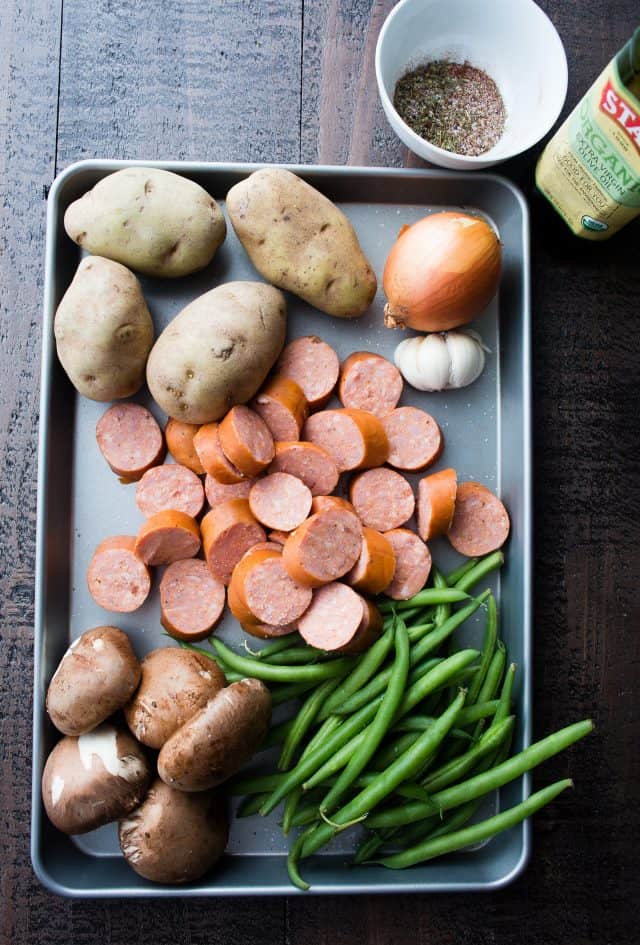 I literally have never met a man that didn't love sausage.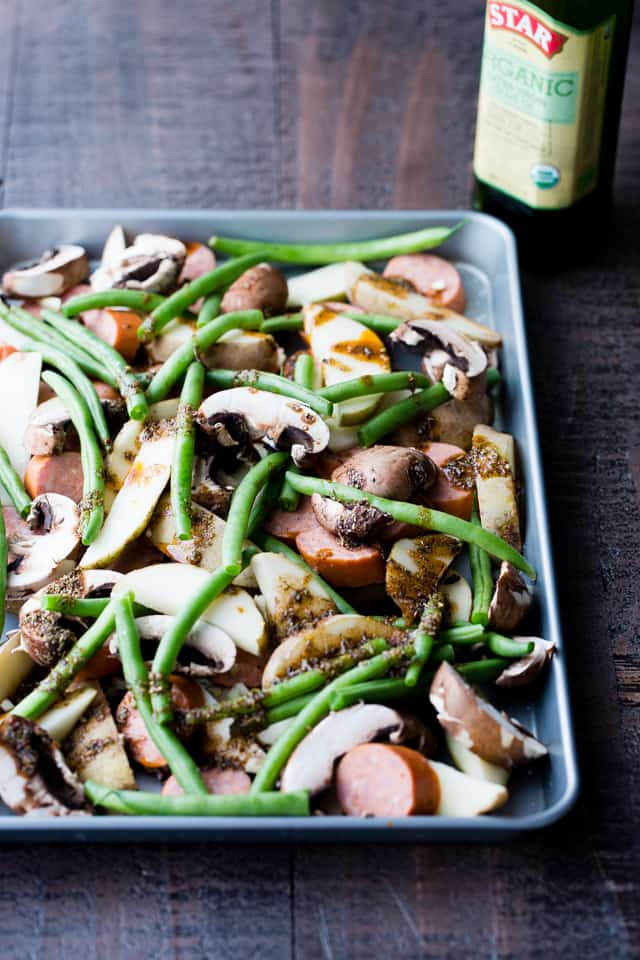 And the flavor combination in this simple meal is dynamite! Packs a punch and is a complete meal all on its own.
That's what I love about Sheet Pan Suppers. It's main course, side items and all! Just set the table, pour a glass of water or team, and pull up a chair and eat family-style right off the sheet pan. Nothing fancy here!
How about some hot and spicy fajitas straight off the sheet pan? Just warm some flour, corn, or grain-free tortillas in a foil packet alongside the pan, for the last few minutes of cooking, and you are ready for your fiesta!
This One-Sheet Shrimp Fajitas is a great variation on the classic and it's ready so quick!
Ready for the table in literally 30 minutes, prep and all.
Got to love that!
Love the idea of cooking salmon fillets this method as well.
This Sheet Pan Chili Lime Salmon would be perfectly delightful!
But, I have also roasted salmon fillets alongside halved or quartered brussell sprouts tossed in nothing fancier than olive oil, salt, and pepper, and then finish the entire dish off with a healthy splash of balsamic vinegar. I love that flavor combination, and it's so colorful and healthful.
Or maybe you are in the mood for a little Italiano? This Pesto Chicken would definitely hit the spot!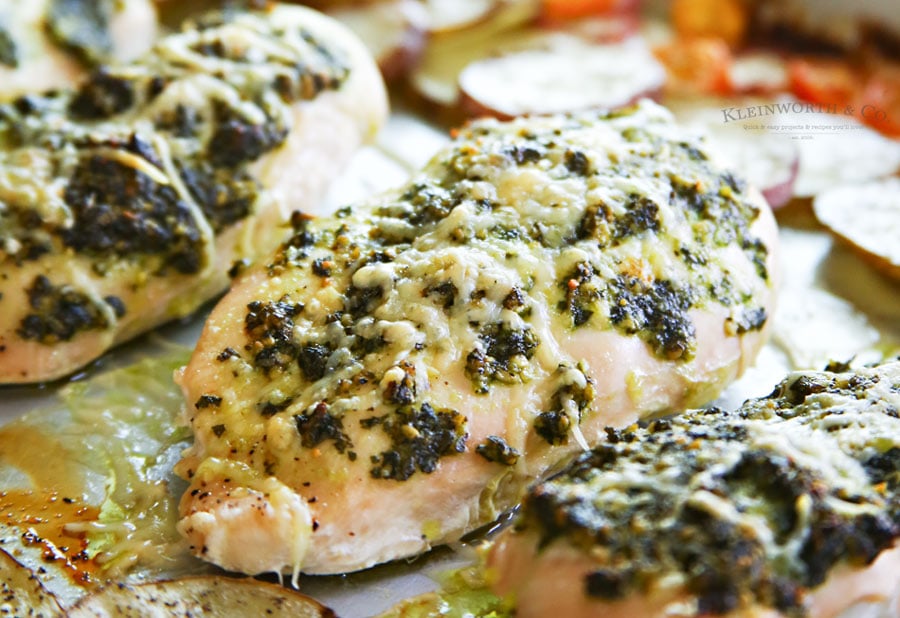 And, I don't know about the kumquats listed in this recipe and I find them to be difficult to find, but I think that potatoes, carrots, butternut squash, red onion, grape tomatoes, or even radishes would make a delicious combination!
I love that this recipe's pesto incorporates fresh spinach for an extra vegetable to the dish. I would top mind with Goat Mozzarella (because I am cow-dairy free) for an extra cheesy finish. But, Parmesan is a classic for a reason!
I hope some of these ideas at least spurs you into thought when you are met with the "What's for dinner?" dilemma. Get creative, check your produce drawer and your freezer for veggies and proteins, raid your spice cabinet, and build your own sheet pan suppers.
Enjoy!