I am a self-proclaimed book worm, and 2018 was a fantastic reading year!
Somehow in those 365 days, I read 73 books!
Never even in my wildest imaginings did I think I would accomplish over 52 books, which was this outlandish goal I had set for the year- 1 book for each corresponding week. And, throughout the year, I read by mood and what I wanted to read regardless of length or page count. And, on the flip side, if I wasn't enjoying it, I would re-shelve it or donate to Good Will.
Life is way too short to read books you don't LOVE!
Additionally, I re-read several favorites this year. And of course, since I am re-reading and wanting to revisit these characters and those worlds, they have remained favorites of mine, so they will not be included in this Favorites List below. I wanted this list to consist solely of books I discovered and read for the very first time in 2018.
So, in no particular order of 1-12, (because a top 10 list was just far too limiting), these are the books I loved in 2018 and would recommend time and time again.
And I have!
I hope you find something you'd like to try among them. I read very widely this year, so there is bound to be something you connect with as a reader.
---
We Were the Lucky Ones by Georgia Hunter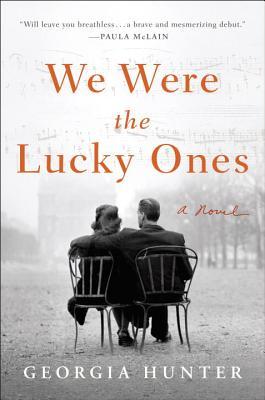 Wow! That's honestly the first word that comes to mind for me when I think of this one. While I read it very early in the year, this one has stayed with me and I think about it all the time.
I loved the intimate details she shared of her family's story, the fact that they were real people from her past, and the care and consideration she gave to each character that she wrote. They had their own uniqueness in how they narrated their chapters, different word choice, and personality. I got totally wrapped up in her writing style, her perfectly crafted paragraphs, her word choice to convey deep emotion, fear, or longing, and would feel my throat start to close in emotion as I would read the lines and I could deeply feel and sense a small taste of what that character was experiencing.
Their examples of resiliency, faith, and the strength of the human spirit will stick with me a long, long time after closing the cover. Cannot extol the virtues of this book enough to readers and lovers of WWII period fiction and non-fiction alike.
You must read this book!
The Pillars of the Earth by Ken Follett
An absolutely masterfully told tale of truly epic proportions. Never in my wildest dreams did I imagine I would read a 1,000+ page about the building of a Gothic Cathedral in the 1300's. But, the building of this cathedral is only the beginning…
"Around the site of the construction, Follett weaves a story of betrayal, revenge, and love, which begins with the public hanging of an innocent man and ends with the humiliation of a king."
Absolutely incredible in scope and details. And while, admittedly, it did take me a bit of time to really get into, by about page 300, I was furiously flipping pages.
Highly recommend to those who love a meaty, gritty, great piece of historical fiction that has plenty of action and is character-driven.
(Side note: I have already read Book 2 in this series World Without End as my first read of the 2019 calendar year and I can honestly say, this series gets even better!)
Station Eleven by Emily St. John Mandel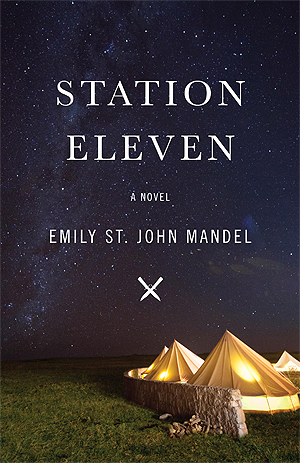 This book was a drastic departure from my normal reads– and I loved every single second of it!
I cannot even begin to give a description or synopsis of this book, so I am going to let GoodReads do it for me: "An audacious, darkly glittering novel set in the eerie days of civilization's collapse, Station Eleven tells the spellbinding story of a Hollywood star, his would-be savior, and a nomadic group of actors roaming the scattered outposts of the Great Lakes region, risking everything for art and humanity.
One snowy night a famous Hollywood actor slumps over and dies onstage during a production of King Lear. Hours later, the world as we know it begins to dissolve. Moving back and forth in time—from the actor's early days as a film star to fifteen years in the future, when a theater troupe known as the Traveling Symphony roams the wasteland of what remains—this suspenseful, elegiac, spellbinding novel charts the strange twists of fate that connect five people: the actor, the man who tried to save him, the actor's first wife, his oldest friend, and a young actress with the Traveling Symphony, caught in the crosshairs of a dangerous self-proclaimed prophet.
Sometimes terrifying, sometimes tender, Station Eleven tells a story about the relationships that sustain us, the ephemeral nature of fame, and the beauty of the world as we know it."
This book is lyrical, beautifully written,and I couldn't put it down. The setting was bleak, yes. But it explored what every good apocalyptic story should – what makes us human? Who do we choose to be when civilization has become irrevocably broken? Do we keep our humanity, or do we lose it, and if we keep it, how do we do that? What is really important in life? It is the hope of something more that inspires us and pushes us onward.
I would recommend this book to anyone who loves a good story with an interesting and unusual premise, beautifully told.
The Shell Seekers by Rosamunde Pilcher
My 2nd Pilcher novel (I read Winter Solstice last year), and I loved it every bit as much as I did the first novel I read of hers. She is becoming a tried and true novelist I can depend on! I love when you can return to authors over and over.
While it's not a compulsive read, or one that will keep you totally absorbed for hours and hours without food, water, or basic human interaction, I felt this story to be a wonderful companion I looked forward to visiting again. Almost like a lazy stroll along the beach with a close friend and we could chat and then just walk awhile in a companionable silence.
Set amidst bustling London and craggy Cornwall from WWII to present day, Pilcher tell us the story of the Keeling family complete with the passions, heartbreak, secrets, and trials that have held them together for 3 generations. This is an emotionally evocative narrative and her characters were all too real to me. I fell in love with them, and you will too.
Echo by Pam Munoz Ryan
"A children's story that can only be enjoyed by children is not a good children's story in the slightest." — C.S. Lewis
Echo may be classified as children's or middle-grade literature, but it is truly a story for everyone! It is the perfect blend of Historical Fiction and Magical Realism rolled up into one incredible, character-driven, thought-provoking story. It was enrapturing, absolutely delightful, and enchanting from cover to cover.
It is the story of 3 children, 1 in Germany, 1 in Pennsylvania, and 1 in California, that are connected through a thread of destiny and their stories become interwoven involving a prophecy, a promise, and a magical harmonica.
Utterly magical and I can't wait for you to crack the cover! (I also highly recommend the Audible version of this novel as well)
Send Down the Rain by Charles Martin
Told in his characteristic heartfelt rawness, this latest work of Charles Martin is truly one of his best. I absolutely love his style of writing and I can't exactly put my finger on what it is about it, but it casts a spell on me, grabs a hold of my heart, and doesn't let go.
Send Down the Rain is the story of Allie, a women whose husband was recently killed in a tractor trailer crash, and Joseph, a man who bears both visible and invisible scars from the Vietnam War. An incredible story of redemption, forgiveness, truth, healing, and ultimately, love.
The Great Alone by Kristin Hannah
Without a doubt, the most atmospheric novel I have read all year! The incredible setting of this book is a character all in itself.
Alaska, 1974. Unpredictable. Unforgiving. Unchanging. Uncharted. Untamed.
And for a family in crisis, running from their many problems, it's the ultimate test of survival.
(Quote from the book) "My Mom was wrong about a lot of things, but one thing she had right was about the durability of love. It stays. Against all odds, in the face of hate, it stays…"
Above all, this is the story of resiliency and one family's unwavering determination and hope in the face of incredible feats. Kristin Hannah, as I already knew to be true, is a masterful storyteller and The Great Alone is no exception!
The Dry by Jane Harper
Such a good mystery thriller! It was atmospheric, chilling, and just the right amount of spine-tingling suspense.
"In the grip of the worst drought in a century, the farming community of Kiewarra is facing life and death choices daily when three members of a local family are found brutally slain.
Federal Police investigator Aaron Falk reluctantly returns to his hometown for the funeral of his childhood friend, loath to face the townsfolk who turned their backs on him twenty years earlier.
But as questions mount, Falk is forced to probe deeper into the deaths of the Hadler family. Because Falk and Luke Hadler shared a secret. A secret Falk thought was long buried. A secret Luke's death now threatens to bring to the surface in this small Australian town, as old wounds bleed into new ones." (synopsis from GoodReads.com)
Kept me guessing til the final pages and I never saw it coming. The best sort of mystery in my book.
A Gentleman in Moscow by Amor Towles
Perfectly delightful, slow-simmering, positively enchanting book!
The descriptions had me totally & completely immersed. And this book boasts one of the most fascinating characters in all of historical fiction; I dare you to find one more complex, complicated, fascinating, and eccentric than Alexander. I found him to be completely endearing.
One of my friends described this book as this… It's like listening to your grandmother tell you a story from her past, and from her perspective as you sit in her lap and lounge. I think that is perfect. This book almost has a dreamlike quality to it at times.
Certainly a character-driven novel that is a little slower paced than most, at least for the first 1/3 of the book, but is absolutely fascinating if you give it a fair try. This is one to savor.
The Masterpiece by Francine Rivers
Francine Rivers clearly writes books that I love, get wrapped up in, and characters that I fall in and out of love with in equal measure. In fact, two of my top lifetime favorite books are written by her.
This latest installment to her repertoire is stunning with themes, of forgiveness, waiting on God's timing and not our own rushed senses of urgency, love, friendship, and the lengths to which the Lord will go to for each of us and the claiming of our souls.
I thoroughly enjoyed this book, loved that it was a modern tale (which she doesn't do that often), and was a very original piece of fiction.
Highly recommend to anyone who enjoys great Christian fiction.
Nevermoor & Wundersmith by Jessica Townsend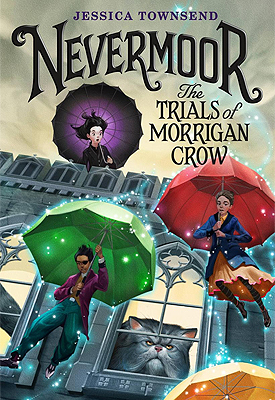 This is a two-for-one special as I read both Books 1 & 2 of this delightful middle-grade fantasy series in 2018!
I fully recognize that these books won't be for everyone, but I ate them right up!
These books follow Morrigan Crow, a young girl who thought she was cursed, but is actually possesses supernatural and magical gifting. I know so many people are drawing Harry Potter comparisons, and while nothing can fill me with that childlike wonder & nostalgia quite like HP, as I first read them in college, these do give me all those similar feels.
These books and their plots are incredibly original, have great characters both likable and unlikable, and book 2 features a bit of a cliff-hanger ending that will keep you begging for Book 3 due out in late 2019.
These are fun and adventurous and creative and an all-around good time!
And finally…
Emma by Jane Austin
So, even though I minored in English at UGA and am a lover of British regency-era fiction, I am not a huge Austen fan. In fact, I did not even like Pride and Prejudice the first time I read it. I am still not sure if it's a book I "like" or if it's just one I appreciate. But, I absolutely adored Emma!
Emma Woodhouse is a delightfully charming, quirky, and imperfect heroine who takes it upon herself to be the town matchmaker. However, she sees no use or purpose for love, relationships, and romance in her own life and is far too busy interfering into the lives of others to worry about it. But some of her interjections and actions have a higher cost than others.
Another book I highly recommend listening to on Audible. Emma Watson narrates and it is so entertaining & the many hours passed by quickly.
So, there you have it. My Top 12 books of 2018.
Do you have any favorites from this past year? Tell me about them.
Happy reading everyone!
xoxo…