And honestly, when does waiting not wear you down?
Emotionally. Physically. Spiritually. Intellectually. Waiting is hard, and no matter my age, maturity level, or how deeply rooted my faith may be at that time, waiting does not get any easier for me. And, in all honestly and truth, Trust hasn't gotten any easier for me.
Which is why I find a kindred spirit and heart-sister-friend in Ann Swindell, a blogger and author who guest posted on Proverbs 31 Ministries recently. Although our circumstances are quite different and our lives seem miles apart, wait seasons, at their core, are very similar. And her words of despair turning to life & encouragement were like water to a parched soul.
Her words are below… I pray they reach and touch you where you are because we are always in some stage of Wait. Coming out of a season of Wait, heading into a season of Wait, or smack dab in the middle of the painful Wait. We are always "ladies in waiting…"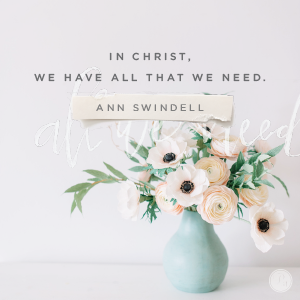 "I sat on the bed and unclenched my hands, trying to pray. From my perspective, the past season had gone painfully wrong.
My work was overwhelming, with deadlines that came too fast and too often. My womb had filled with life and then emptied twice in a handful of months, as we suffered two miscarriages back-to-back. Our daughter visited the ER for a sickness that lingered and broke up our sleep like shattered chalk, and I was wrestling with a physical condition that wore me down every day.
Then, unexpectedly, we found ourselves moving a week before Christmas, which meant a broken lease and high fines, as well as transitioning to a city where friendships would have to be built afresh.
Externally, I was busier than I'd ever been, but on the inside, my soul was barely limping along.
So I did what I always do — I tried to figure out how to fix everything. Maybe if I rearranged my work calendar, or if we saw a specialist or made more money or could get my daughter healthy — maybe then, things would get better. Easier. More hopeful.
But the more I tried to figure things out, the more overwhelmed I became. I started crying out to the Lord, asking the unanswerable question of why: Why were things so hard? Why was there such loss? Why did I feel so stuck?
God answered me, but not in response to my whys.
As I sat and prayed, God reminded me that all the things I was so desperately trying to secure — life, health and provision — come from Him. I can't heal myself or my daughter. I can't sustain life in my womb. I can't force friendships or provide for our family. God alone gives us what we need.
All I can do? Pray. And wait.
I pushed out a hard breath as the tears slowed. Waiting is a recurrent theme in my life, but it has never gotten easier. It's always painful, because it forces me to remember — again — that I'm not in control. I can't give myself what I need; I can only ask God to heal, renew and provide.
I sat and prayed that God would change our circumstances, and then I turned to the Word and read verses that declare that I already have all that I need in Christ (Ephesians 1:3, Philippians 4:19). Sitting on that bed, I came to terms with the fact that the Lord has never promised me another child, an easy life, a full bank account or perfect health. But He has promised me more of Himself.
I may have to wait for everything else, but I never have to wait for God.
But why is waiting still so hard? If I have all that I need in Christ, why do I try to fix things instead of waiting for God's timing? I think it's because waiting reveals our hearts and how much we want to have control. And in order to wait well, we have to give up that control and stop striving to fix things — and seek Him instead.
Our key verse in Lamentations declares that "The LORD is good to those whose hope is in him, to the one who seeks him." It's not easy, but "it is good to wait quietly for the salvation of the LORD" — to have to wait for God to move on our behalf.
Our difficult circumstances may not change easily or quickly, but as we wait on God and put our hope in Him, rather than hoping in a change of situation, we'll find that He Himself is more than enough for us.
In Christ, we have all that we need." 
Truth for you today to triumphantly walk in:
Philippians 4:19, "And my God will meet all your needs according to the riches of his glory in Christ Jesus." (NIV)
xoxo….
– See more at: http://proverbs31.org/devotions/devo/when-waiting-wears-you-down/#sthash.uSfKkxxf.dpuf
You May Also Like...