Another edition of my most recent & most beloved health & beauty finds… and this time it's all about summertime!
Fresh, dewy, glowing skin. Freshly polished, brightly-colored nails. Easy-does-it, shiny hair. Bronzers, blushes, sunscreens, lip glosses, and more!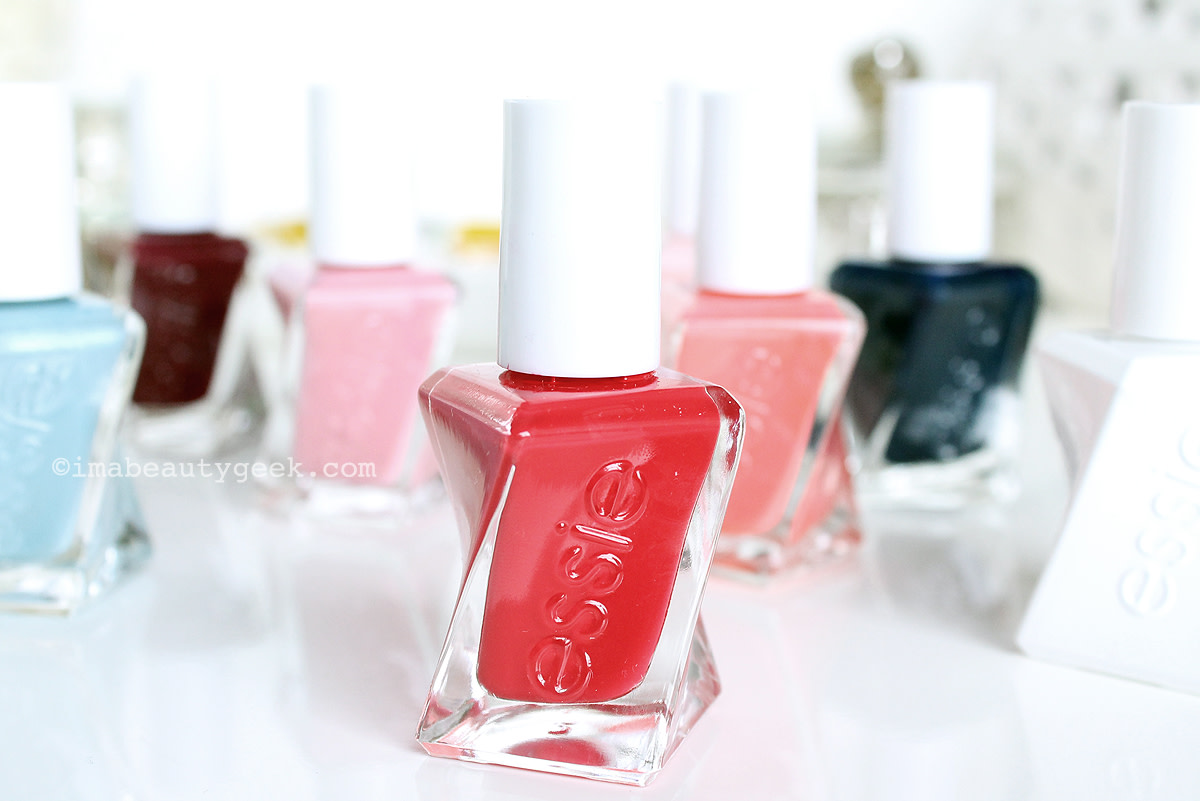 I love a gel manicure. Always looks so professional, shiny, and I don't have to worry about my nails for 10-14 days! But, I'll be perfectly honest, I don't need to budget that amount every 2 weeks for a fresh manicure and, oftentimes, I am not faithful about returning to the salon to have the gel removed and I end up peeling it off myself, and damaging my nails in the process. I know, I know. Very bad. So, when Essie came out with their Gel Couture line, a long-wear, at-home gel-like product that lasts 7-10 days and removes easy as a traditional manicure, I was blissed out and couldn't wait to try it!
So, here we are wearing Rock the Runway, a great, classic, candy-apple red perfect for summer and all 4 seasons.
Commence my series of Bathroom Selfies…
Day 2
Day 4
So, I only took 2 pictures, because on day 5, I got caught by the cleaning staff and it was really embarrassing. Ha!
But, you get the idea.
All in all, this manicure lasted 7 full days before my first chip!  And even then, I touched it up, slicked on a little more top-coat and my nails were strong well into Day 9 before I removed the polish & started all over again on Day 10.
Definitely 2 thumbs-up!!!
Kenra Professional Shine Spray 
Kenra Shine Spray provides weightless, instant shine to any hair color or hair style. This superfine mist provides frizz and flyaway control and contains UV protectants to help guard color- natural or color treated hair types. Just wash, style, set, and then shine! Or, after you use a dry shampoo product on day 2 or 3 of your style, top off your looks with a little shine spray so your hair doesn't look too dry.
The perfect product for summer! Skin is glowing- why not your hair?
Bobbi Brown Highlighting Powder 
And speaking of shining hair and skin…
A light-reflecting powder that gives your complexion a high-impact, light-reflective, shining-from-the-inside glow. Sweep over your cheekbones and the bridge of your nose, exactly as sunlight would hit your face naturally, for a luminous glow that makes your best features shine!
Pink Glow is the shade I wear, and is pictured above, but it also comes in Bronze Glow for those with warmer skin tones.
Mom was who originally discovered Ilia as she is passionate about discovering all-natural beauty products and has even gotten into essential oils as well. I have been a beneficiary of that new hobby as well. Ilia was an all-natural beauty brand that she had researched and ordered a few lip sticks to try, and in her box, as a free gift was a beautiful pink lip gloss. Not a pink wearing gal, Mom gave the gloss to me next time we met and I have worn it every day since.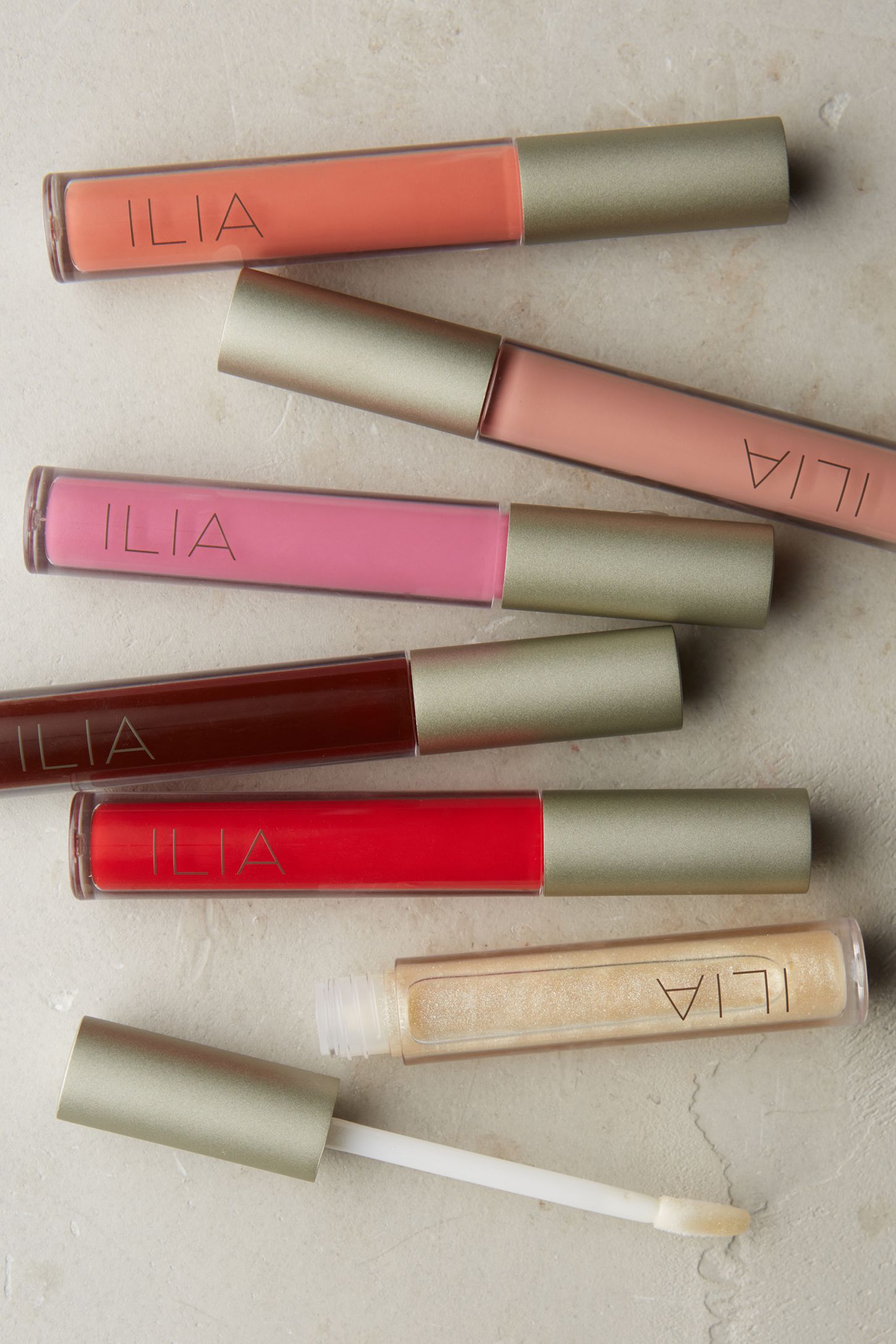 It's the perfect amount of coverage for summer and it's ultra creamy feel and sheer wear is perfect for summer.
Loving the nudes and pale pinks, but am always partial to a classic pinky-red as well. Why do you think the French always wear red lips & nails? Classic and beautiful on most skin tones.
ColorScience Sunforgettable Brush-on Sunscreen, SPF 50
It is very important to wear sunscreen every day. Particularly this time of year, but I have a hard time wearing cream sunscreens and then wearing make up as well, so powdered sunscreen is the answer to that!
Stay radiant every single day with this brush-on sunscreen that offers powerful SPF 50 UVA/UVB protection, all alone or over make up. This powder can act as a finishing powder and it has a nice translucent coverage. Comes in a variety of shades: Fair, Medium, Tan, & Deep.
I absolutely swear by this stuff and use it all the time! Plus, if you have oily skin (like me) and sunscreens and heavy moisturizes tend to break you out, this is the perfect answer! Such a wonderful investment in your beauty routine.
Neutrogena Ageless Intensive Tone Correcting Moisturizer, complete with SPF 30
Y'all…. this stuff!
I first read about it in Good Housekeeping Mag- you know, where all good things in life come from- and so I picked up a small tube the next time I was in CVS and it's a great product for those of us that may have some additional redness, unevenness, and even hyper pigmentation around more sensitive areas.
Here is what Dr. Waldorf said about it in GH, "…sheer tint, SPF, and anti-aging retinol + Vitamin C mean you can essentially get away with just one product in the morning instead of three!"
Well, I like those numbers…
xoxo…