And, this is another edition of A Few of my Favorite Things…
… where I share my current crushes, the more lust-worthy items I have my eye on, classic trends with the volume turned up a bit, and beauty products that I swear by!
Slides 
The most versatile footwear trend of this fall and winter season!
My favorites are these super chic Vegan Austin Flats from BC Footwear, a sister-company of one of my favorite shoe brands, Seychelles. I got them in Taupe (pictured above, middle picture), but also comes in stunning brushed metallic and a lovely Saddle color.
And these?
They are the Survival Slides from Seychelles. Theses super-versatile babies come in Black & Tan.
Love the ease and simplicity of just sliding in, and going! My perfect go-to weekender shoe.
Bomber Jackets 
And this Faux-Suede Black Bomber from Fifteen Twenty is hanging in my closet. (Thank you Mom & Dad for this amazing birthday gift!) 
Pairs beautifully with jeans, sneakers, and a slouch tee, or with silk tank and dress pants, or even over a dress and heels. The ultimate piece you can dress up, or dress down.
And you cannot even imagine how soft the fabric is. It's like being wrapped in a big, cozy hug.
Chan Luu Embellished Silk Skinny Scarves 
A recent find thanks to my girlfriends and favorite style experts at Terra Cotta Savannah, my favorite boutique.
Pictured above, Darkest Spruce Vetiver Dip-Dyed Necktie 
These are stylish chiffon neckties that are dip-dyed and embellished with beads, tassels, and trim. With so many ways to wear, they are an excellent accessory for the season!
The details are just stunning!
Pictured above, Ombre Blue Bandana Bandana Necktie 
Do yourself a favor and scroll through the beautiful array of colors, textures, and embellishments, and find one that speaks to you! They are so fun!
OPI Infinite Shine, Professional Long-wear Nail Lacquer System  
A few of my favorite shades from this long-wear collection are…
You Don't Know Jacques- perhaps my very favorite shade for fall & winter year after year
The perfect blend of cocoa-brown and stormy grey and a great, dark neutral for all season.
I am also a fan of classic reds the whole year through, and my go-to Red is Big Apple Red.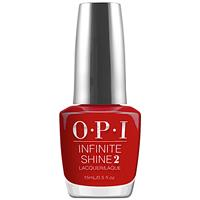 And finally, Raisin the Bar (who comes up with these clever names anyway?), which is a deep wine berry shade.
And it's just completely yummy and luscious in every way!
Vintner's Daughter Active Botanical Serum
Or, as I call it, my Miracle Oil.
Now, I understand your trepidation as I also have oily, acne-prone skin and it is counterproductive to put oil on already oily skin. Typically, we pile on oil-ridding or drying products to soak up the oil and clear our skin and empty our clogged pores, but after reading and researching more natural beauty products, Mom felt compelled that I should try this oil.
"Active Botanical Serum is a 100% active face oil, strategically formulated to have the multi-correctional activity and penetration of a super-powered serum. Made from the world's most nutrient rich botanicals and essential oils, it is a skincare game changer that restores skin's balance, texture and natural radiance."
It lightens my unevenness, aids in clearing hormonal acne, and fades red spots and hyper-pigmentation that I hold onto for so very long due to how fair I am.
I cannot say enough about this product. Go to their website and read the testimonials, you will be astounded at what you read! And yes, the price tag is a little steep, so Mom and I split our first bottle before we each take the plunge individually. I won't have to have my arm twisted when it comes time for a refill.
Not Your Mother's 
Honestly, dry shampoo is one of my all time favorite beauty products, and I may have found my favorite dry shampoo brand!
Absorbs excess oil, cleans without water, light matte finish, no powdery-residue, and leaves you with fresh look-at-me volume. Can also be purchased at Wal-Mart, CVS, Walgreens, and most drugstore chains.
I love the way my Day 2 Curls look after a quick spritz of this stuff, a little tiny tease of the crown, and I am off for another day!
And speaking of those curls pictured above, the curling iron I swear by is the Hot Tools Pink Titanium Ceramic Curling Iron. 
Possibly my favorite new beauty find- Dr. Rogers RESTORE, a Petroleum-free and Allergy-free Ointment. So luscious, thick, and emollient on your lips and can also be used on minor scrapes, cuts, and burns just like you would a NeoSporin. This product is dermatologist created and recommended, non-toxic, chemical free, skin-protectant and ointment. And it's 100% Plant based formula that can be used on lips, skin, & nails.
It is a tremendous skin moisturizer and can even be used on your children, infants, and even your 4 legged dog and cat friends.
Rouge CoCo Shine, Chanel LipColor 
I love this formula so much! I am probably on my 5th or 6th tube of this formula and 3rd or 4th different color.
Rouge Coco Shine is a hydrating, Sheer Lipshine with just the right amount of tint and moisture.
Right now, I am rocking 2 different shades depending on the day and my mood. A bright and poppy red-pink shade, #84 Dialogue, (pictured below) or #60 Antigone which has a more Mauve shade to it with just a bit of shimmer.
Each tube retails for $37.00.
Could be a great stocking-stuffer this holiday season?!? Drop a few hints.
So, that's my most recent round-up of some of my favorite Fashion & Beauty Finds.
What are some of yours?!? Share with me…
xoxo