Barely inching into April and the Atlanta area has already seen its big Spring bloom with Cherry trees, the Dogwoods, and even the azaleas we are so known for during Master's season in Augusta. Our temperatures are looming well into the 70s and 80s most days with a light breeze in the afternoons.
Summertime is just about upon us, and I for one, enjoy the longer days, the sunny afternoons, and the days spent sitting on a beach somewhere with a good book. What I am not looking forward to so much is the humidity, but you know, you have to take the bad with the good sometimes, and we Southerners certainly know that to be true.
So, I wanted to share with you some of my favorite Summertime trends, accessories, and fashion statements that transfer from the runways to the stores and boutiques right to your very own closet. How to wear them. Where to find them.
Statement Sleeves 
Statement Sleeves, or kimono-blouses, are all the rage this season, and I was a quick and easy convert and I jumped on that bandwagon early, and often.
Gibson Ruffled Handkerchief Hem Top (comes in Regular & Petitie) from Nordstrom, $42 (comes in a variety of colors, but isn't this emerald lovely?)
Topshop Tie Trumpet Sleeve Top, $80
So light, airy, and ultra-sophisticated. Even for the office!
The Matea Off-the-Shoulder Pull over is just the right amount of statement sleeves, for those just wanting to dip their toe in the deep end. It's a trend worth trying!
Floral Texture Blouse, $98 at Anthropologie by Eri + Ali
Stunning with jeans, chinos, shorts, or tucked into a skirt all summer long!
Bomber Jackets 
Bombs away!
There is something ultra chic and edgy about a bomber jacket. Plus, they are typically lightweight and many are weather resistant perfect for a throw-on-and-go look all summer and fall long.
Madewell Satin Bomber Jacket, at Nordstrom's for $148
And they range from sporty to feminine and everything in between. Very versatile!
Juneworthy Bomber from Hei Hei for $78
There is something about that crisp and clean white, but it also comes in Mint, Yellow, and Navy.
Trouve' Embroidered Bomber Jacket, currently on sale for $99 (a 33% discount)
I have to say, I am sort of partial to the embroidered versions. Don't know what it is exactly, but they speak to me!
Tropical Florals 
I know what you must be thinking… Tropical florals for summertime and vacation season? Not exactly a revelation, and in truth it is not, but I am not a huge wearer for floral patterns, but these ruffled, dainty slip dresses and maxi skirts and sweaters have me all like… whoa! I need to give bright florals another try!
Grecia Floral Dress by Maeve, $158
Crushing on that rich combination of pink & tangerine! And, this dress features another very "hot right now" trend of one-shoulder detailing. So, it's two for one!
And who could resist a good, classic Palms print?
Pleated Palms Skirt by Sunday in Brooklyn, $118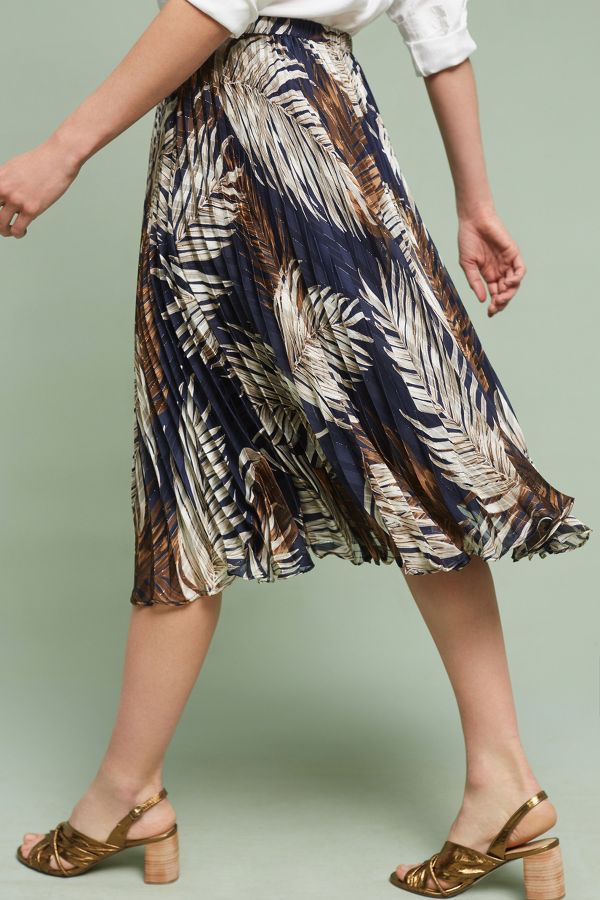 A delicious skirt for summertime, and can easily be dressed up or dressed down depending on the occasion.
The "Jackie" Cotton Cardigan is a classic cardigan that I have in a variety of colors and they are perfect to throw on over a tank, a dress, or paired with a skirt or pants. And this Cotton Jackie Cardigan in Florida print is a fun, quirky update to a classic perfect for this summer season.
And it's currently up to 30% off online!!!
Casual Slides 
Sandals are a summertime essential. Along with the all-important pedicure as well. So, polish those nails and slide into something pretty…
Coast Slides from Seychelles (my fave!), $85
Don't you just love that dusty blue suede? Yum!! And I love the platform for a little extra lift as well.
Doris Kork Sandals by Raphaella Booz are gorgeous and certainly make a statement! And, again at $78, an affordable fashion sandal.
Plus, kork is so versatile and can be worn with anything and any color!
The Updated Trench
Trenches. They're not  just for coats anymore.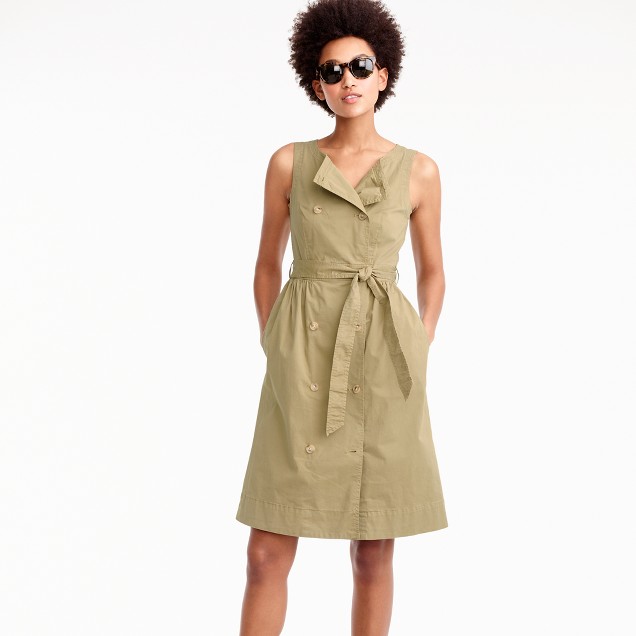 Trench dresses and Trench vests are making a splash this spring & summer. And JCrew's Garment-Dyed Trench dress is simple and ultra-sophisticated. It is shown above in classic khaki, or Golden Tea shade, but also comes in a blush pink and a true navy.
Or maybe an Embroidered Floral Trench?
Always an incredibly investment into your personal closet. A trench is timeliness in every way.
Laces 
Side Lace Tank Top from Sunday in Brooklyn, $88
Just a touch of laces and grommets on this swing tank.
Or, for more of a statement…
Lace-up T Shirt from J Crew for just $49.50! (available in more colors)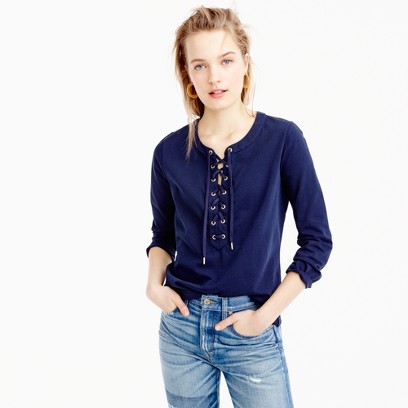 It's a familiar trend, and a comfortable one for most, but is just a small update classic to your staple tees and tanks that punches up the style a bit.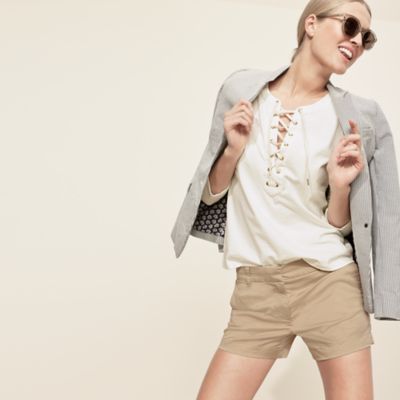 Perfect paired with jeans and sandals for a casual Saturday or Sunday afternoon, or even with ankle pants, wedges or pumps, and a blazer or sweater for a more professional, polished look.
Or a lace-up shirt dress?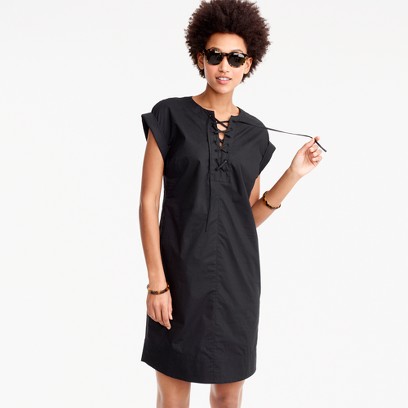 Love the simple styling of this pull-on-and-go easy chic dress for summertime. All you need is a hat, sunglasses, and sandals and you are off! Comes in black (as pictured above) along with navy and ivory as well.
Wide Leg Trousers 
Everything old is new again. Isn't that so just the case with some of the styles we have seen return to fashion? And wide leg pants, culottes, and flare jeans from my most favorite fashion decade, the 70s, have made their return in 2017!
Deni Cropped Wide-legs, from Bishop + Young for $98

And I am seriously crushing on these bright, cherry red linen crop flares from Cartonnier at Anthropologie for $98. Comes in Orange and Royal Blue as well.
Jeans are getting in on the action as well, even my favorite brand of denim, Pilcro. Here are few of my favorite new designs of theirs:
Folio, Ultra-High Rise Cuffed Jeans, $128
And a more understated flare? These are just perfect! I love their Script denim jeans, most any style. I have a few pairs hanging in my closet right now, in fact!
These are a nice, dark wash with a nice, slightly-wide, cropped leg, undone frayed edges, 5-pocket styling, and made with cotton & spandex for easy wear. The Script is one of my go-to's!
Feminine/Athletic Sneakers 
Athletic leisure is a big fashion trend for this year, and I am not a huge fan of jumpsuits or matching sweat outfits, but I love the idea of these updated, ultra-feminine and funky sneakers that can be paired with your favorite jeans and T shirt or even with a maxi skirt and tank for a stroll through the farmer's market or brunch out with girlfriends!
Quake, from Seychelles for $120
I'm sorry. I have a thing for these. The suede, the platform, the ruffles, the simple styling. So perfect!
Superga Sneaker Mules are the perfect athletic slide perfect for lazy Saturdays.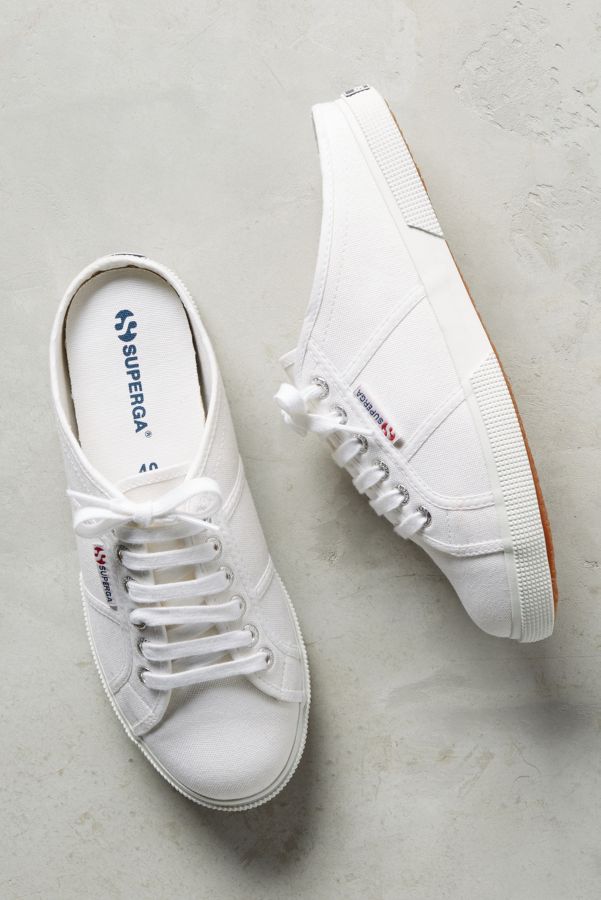 And they are just $68!
So, those are just a few of my current crushes for this summer season, but that's certainly not the extensive list!
Have fun exploring these and so many other Summer 2017 fashion trends!
xoxo…