Just because warmer weather is right around the corner, doesn't mean you have to put away fall & winter's favorite accessory.
At least, not entirely.
Trade in those bulky wool and cashmere versions for lightweight chiffon or silk and get creative!
Here are a few ideas for styling, and also, places to buy some really beautiful spring & summertime scarves!
So, let's get wrapping…
Treat these neck scarves just as you would a great necklace. Layer them on, as you see above, or wear it all by itself!
One of the ways in which I love them tied, is shown below in this easy-to-follow graphic…
Some current favorites?
Love the understated and neutral tones in the Botanical Kerchief Scarf from Anthropologie for $18. Also comes in a lovely blue shade as well.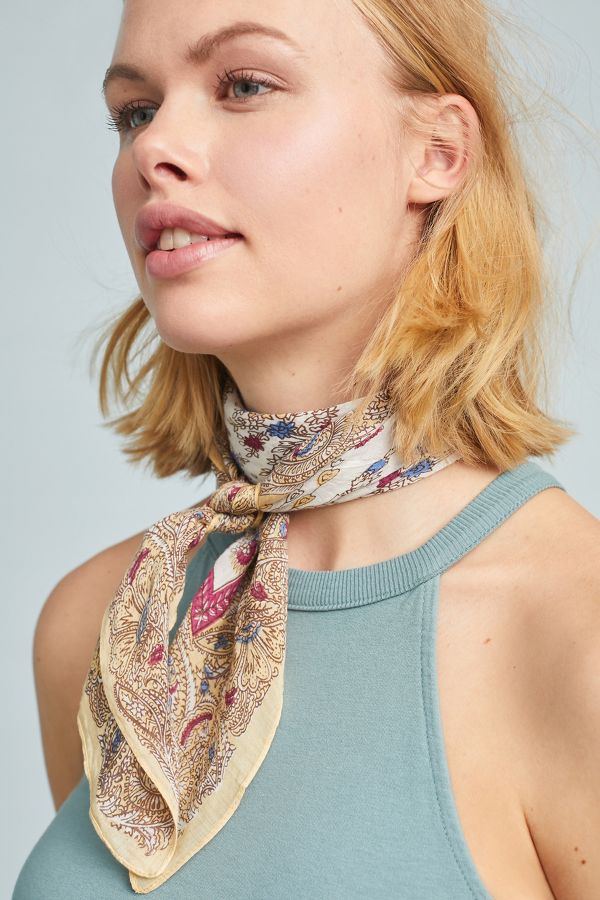 And who could go wrong with classic Paisley? This Paisley Bandana, also from Anthro, will pair beautifully with both prints as well as solids in your closet!
I love Chan Luu Necklace Scarves, which are the best of both worlds, and are super trendy, fun, and easy to wear.
Some are embellished, and those are certainly the ones I prefer (surprise!), and take a simple twist and you are out the door!
Perfect over a simple cami and jeans, as seen above, or can dress up a sheath dress or even sweater or blazer for work.
Check out all of their unique styles, colors, and textures here. I promise you won't be disappointed! I return to mine over and over again, and it's perfect in all seasons.
Scarves are not just for your neck anymore, but a beautiful and ladylike accessory.
When tied around a low bun or a low ponytail, it's super chic and sophisticated.
Or, worn around a high messy bun or top knot for instant flair!
Or, try it as a sleek turban or headband for a day at the beach, at the lake, at the farmer's market, or anywhere in between!
Well… That's a wrap!
(Please forgive the bad scarf-tying puns… best I could come up with!)
xoxo…